| Author | Illustrator | Speaker
Beccia's Books
Testimonials
I like that you draw ugly people. Some day I would like to be an author and illustrator just like you!
-Sorine, Age 8
Thank you for coming to our school. You were fantastic. My favorite part was when you drew that picture of Gargantuan...
-Sophia, 4th Grade
The Serious Bio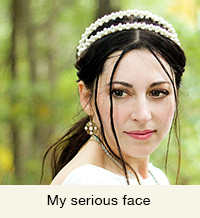 Carlyn Beccia (pronounced Betcha) is an author, illustrator, graphic designer, and presenter with blood type B+ (in case any vampires are reading this). Beccia's children's books, including The Raucous Royals,I Feel Better with a Frog in My Throat, and They Lost Their Heads have won numerous awards including the Golden Kite Honor, the International Reading Association's Children's and Young Adult Book Award, and the Cybil Award. She was a commentator on the PBS documentary, Secrets of Henry VIII's Palace and has spoken at the Computer Electronics Show, Boston Children's Book Festival, several SCBWI events, and schools across the country. If you would like to know what I have in my zombie preparedness kit, contact me.